---
Automotive Product Placement in Film: The Good and the Bad
---
One of the great things about being an entertainment consumer today is how easy it is to skip over all unwanted advertisements. People subscribe to Netflix, stream shows and movies online, or DVR them and skip over all the commercials at a later time. This poses a big problem for advertisers, especially since advertising costs are not decreasing. Product placement can be a win-win solution for both advertisers and studios.
An industry that has not been shy about placing its products in front of consumers is the automotive industry. By incorporating models of cars into the movie or show, advertisers guarantee impressions.
An example of automobile placements done correctly is Mercedes-Benz. It won the Brandcameo 2012 Award for Overall Product Placement. According to BrandChannel, Mercedez-Benz appeared in 10 out of 34 box office #1 movies including Think Like A Man, Taken 2, Act of Valor, Argo, 21 Jump Street, Twilight, Skyfall, and Jack Reacher. Mercedez-Benz obviously did something right. It not only picked box office winners but also chose models well suited for whatever setting it appeared. Skyfall is a no brainer because we expect James Bond to drive a luxurious and flashy car. However, I was very impressed with its ability to adapt to in Argo; the older 1968 Mercedez-Benz 220 with a "tehran-dusty" paint job shown below is a perfect example.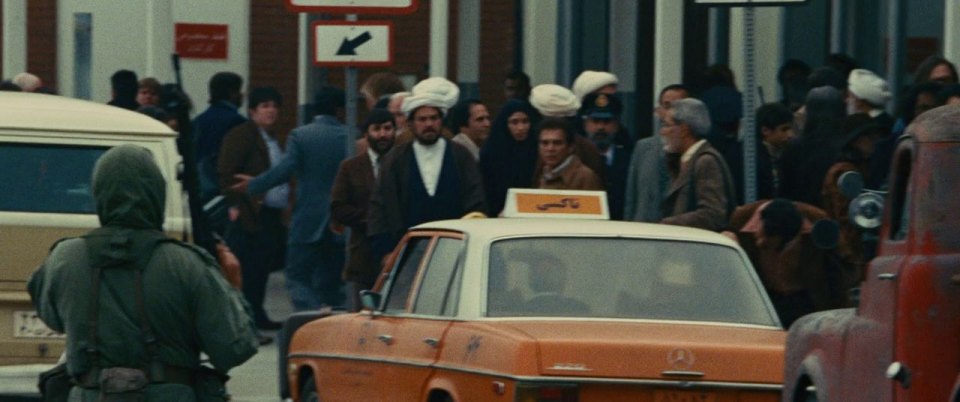 On the opposite end of the spectrum, some car companies do not aim for subtlety. Sometimes it is borderline ridiculous and can hinder the audience's enjoyment. Below are three of my favorite examples for some of the most obtrusive and obvious car product placements.
1. The Italian Job worked really hard to force mini-coops into its script. To make it work they had to boost the cars' power beyond the standard model and create scenarios where only a super tiny car could squeeze through.
2. GM changed Transformers Bumblebee from a Volkswagon Beetle to a Chevrolet Camero. GM models represented other characters, but the villains were industry competitors.
3. The Walking Dead has featured the immaculate kiwi-green Hyundai Tucson in its latest season. According to Forbes, Hyundai made a deal that the Tucson was to never break down or be smeared with zombie blood. The Hyundai deal was continued and expanded, so look forward to seeing more perfect Hyundais in The Walking Dead's Season 4.
A unique opportunity in the horizon is Ford's sponsorship of the 2014 Need for Speed. Ford gets to feature its models at the beginning of a potentially lucrative franchise (Think Fast and the Furious). The key to product placement success is subtlety. The product must blend in with the world and support the characters. If Ford and Need for Speed can work together and incorporate models like Mercedes-Benz product placement strategy, then both can experience significant financial benefits and produce a great film at the same time.
Advertisers can influence the production and plot of a program as seen above. Deals are made individually with studios and are usually either a direct payment or cross-promotional agreement. Either way, the studio saves money on production or marketing, and the advertiser is guaranteed impressions.
Let us know what you think. Are studios selling out or is product placement harmless to creative expression and the viewers experience?
Sources:
Buss, Dale. "The Zombies Have It: Hyundai Expands 'Walking Dead' Deal." Forbes. http://www.forbes.com/sites/dalebuss/2013/05/19/the-zombies-have-it-hyundai-expands-walking-dead-deal/
"E3: DreamWorks and Ford Announce 'Need for Speed' Film Partnership." Comingsoon.Net. http://www.comingsoon.net/news/gamenews.php?id=105303
Huebner, Eric. "Seamless & Subtle: The Art of Automotive Ad Placement." Tier|10lab. http://tier10lab.com/2013/04/12/seamless-subtle-art-of-automotive-ad-placement/
Saur, Abe. "Announcing the 2013 Brandcameo Product Placement Award Winners." BrandChannel. http://www.brandchannel.com/home/post/2013/02/25/Brandchannel-9th-Brandcameo-Product-Placement-Awards-022513.aspx#1